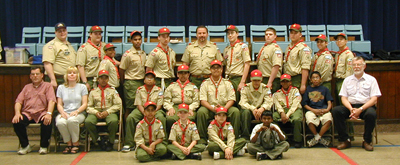 Troop 105 Queens, N.Y.
Greater New York - Queens Councils
Sponsored By
Our Lady Of Perpetual Help R.C. Church
South Ozone Park, NY 11420
Number of Visitors since January 1, 2001
This Page was last updated on Febuary 8, 2002

Welcome to Troop 105ís web page, Proudly serving South Ozone Park, Queens N.Y. for the past 71 years. The goals and objectives of the leaders and members of Troop 105 is to see that every scout that joins our troop has one of the best experiences of their lives.




Last modified 5-26-02 by Frank Boccabella III & Marvin Martins . All rights reserved by the author.
This document may not be distributed or posted in any format or reposted on any other server without permission.